MAGENTO ECOMMERCE
Magento eCommerce is a wonderful alternative to explore if you're seeking for robust e-commerce platforms. So, what exactly is Magento, and why should you use it? care about it? This page will contain all of the solutions to these questions. Let's get started right away!
   ALL ABOUT MAGENTO 2!

 Get a smooth and hassle free eCommerce website with Magento 2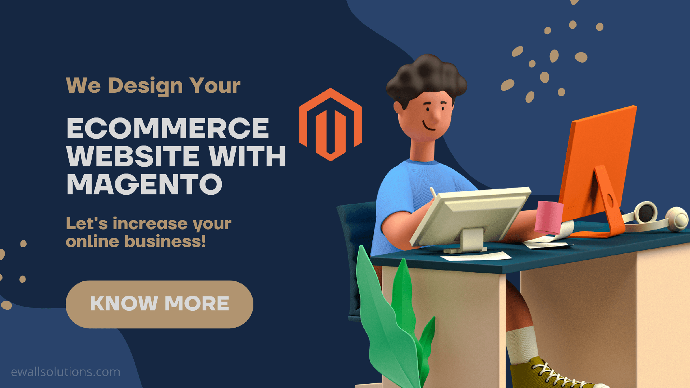 WHAT IS MAGENTO?
Magento is an open-source e-commerce platform that gives online retailers with a customizable shopping cart system as well as control over the appearance, content, and functioning of their online store. Magento's marketing, SEO, and catalog management features are all extremely robust.
Adobe completed its commerce loop in 2018 when it paid $1.68 billion for Magento. This purchase will also aid Magento's growth in the enterprise market.
WHAT IS MAGENTO 2?
Magento 2 is the most recent update from the developers. The system is updated on a regular basis, with Magento 2 being one of the most significant improvements to date. Magento 2 is a more advanced and quicker version of Magento. The platform was torn down and rebuilt when the creators received concerns and feedback. Magento 2 is the way to go if you want a website that is faster, safer, and scalable.
BASIC FEATURES OF MAGENTO 2
With the backend of Magento, the admin can handle a lot of features and can customize them according to the customers/audience. 
Let's have a quick look at the backend features,
Dashboard - A visual representation of lifetime sales, average orders, bestsellers, most popular products, most recent orders, revenue, shipping, tax, and more.

Sales - Quick tour on the Orders, Invoices, shipments, credit memos, Billing agreements, and transactions.

Catalog - Easy to find the products based on product category

Customer management - Customer contact forms and follow-ups

Marketing -  Promotions, Communication, and user engagements can be followed here

Content - Customization of the element and design

Reports -  Get detailed reports about Sales, Products, Marketing, and Customer engagement.

Stores - Manage several stores, and inventory, choose a preferred currency and double-check tax rules and zones.

 System - Import/export customer and product information, and the administrator can provide authorization to certain users in any position.
WHY SHOULD YOU USE IT?
OPEN SOURCE - Magento not only provides scalable and versatile eCommerce solutions, but it also allows you to modify them. It also allows you to expand your platform in order to offer distinct and differentiated branded experiences. This platform is adaptable to change and may be customized to match the needs of store owners.
EASY INTEGRATION - Third-party add-ons and modules can be simply integrated with your Magento store. This service provider is unrestricted in its modification policy. Shop owners can also use Google Analytics and other third-party connectors (such as eBay, Paypal, Mail Chimp, and others) to help analyze data on their site.
FAST LOADING TIME - Magento has made it a mission to create the world's quickest eCommerce businesses, and it's also known for its ability to create a fast-loading web page. And you're surely aware that slow-loading pages "sink" quickly. In many circumstances, the loss caused by a slow-loading page is visible right away, which might lead to unforeseen consequences.

SEO FRIENDLY? - Of course yes, Magento eCommerce is up to date with the current SEO ranking variables in terms of SEO. It has excellent URL structure and meta-implementation choices, which are essential for SEO. Magento also has analytics built-in for tracking website traffic. This is one of Magento's most noticeable characteristics.
SHOULD YOU USE MAGENTO 1 OR MAGENTO 2?
Magento 2 is a new and improved version of Magento 1. Magento stopped supporting Magento 1 on June 30, 2020, because Magento 2 is safer and more efficient.
If you're still using Magento 1, you could face fines as a result of non-compliance and security concerns. We strongly advise that you upgrade as soon as possible.
WHAT SERVICES DO WE OFFER WITH MAGENTO?
Magento 2 Development Services

Magento Custom theme developments

Magento third-party integrations

Magento 1 to Magento 2 migration

Magento Commerce cloud development

Magento Speed optimization services 

Magento support and maintenance 

Magento Code audit
THE BOTTOM LINE
Being one of the best open-source eCommerce platforms and because of its sophisticated, scalable architecture, Magento 2 is the most widely used CMS (Content Management System) for creating online stores all over the world. It is compatible with the most recent technology, such as PHP7, which means it loads faster than Magento 1. Magento 2 enables users to automatically update their e-commerce websites.
Magento 2 has a lot of features and a flexible codebase. Organizations with small and large operations all over the world use it for a wide range of projects because of these features. At EWALL with certified techies, we offer a wide range of Magento eCommerce solutions/services as mentioned above for all kinds of businesses like B2B, B2C, and Small/large enterprises.