LinkedIn's Government ID Verification
You are not the only one! Many are confused and came across this new Government ID verification feature from LinkedIn. But why? Is this safe to add your ID? Is it mandatory? You can find answers to all these questions in this article. 
Why is this new feature popping up on your LinkedIn profile?
On June 7th 2023 LinkedIn rolled out a feature called "Government ID" verification. This feature asks you to verify your government ID like (Aadhaar). Having an ID verification on your profile means that you have a valid government-issued Aadhaar ID and it is verified by LinkedIn's verification partner.
Is it safe to share your ID verification with LinkedIn?
Yes, it is, because LinkedIn verifies the ID with Hyperverge a third-party partner, but you will be signed up with Digilocker first ( DigiLocker is a flagship initiative of the Ministry of Electronics & IT (MeitY) under Digital India program. DigiLocker aims at 'Digital Empowerment' of citizens by providing access to authentic digital documents to citizens' digital document wallets). That's why it is safe to share the ID with LinkedIn, anyhow check out the article below for the more detail on the ID verification on LinkedIn.
Related article: Verification on Your LinkedIn Profile
This is how profile with a verified ID looks like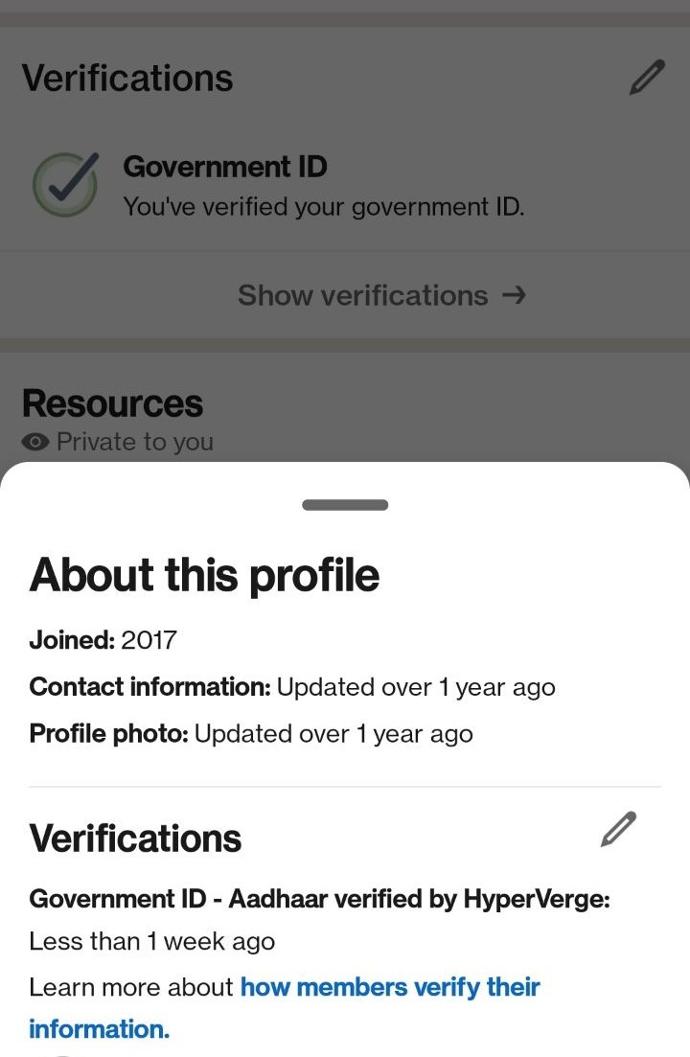 Is it mandatory to add your government ID verification on LinkedIn?  
No, adding the verification is totally optional. But adding this feature allows users to verify their identity by confirming their government-issued ID through a secure digital platform. By undergoing this verification process, professionals can showcase their credibility to their peers and potential connections, adding more value to your profile among the professional communities.
The Bottom Line
So that's all about adding the government verification ID to your LinkedIn profile! But if you still have doubt on how to add or remove this ID? Then do check out the related article below.
Reference article: ID verification on your profile with Aadhaar
LinkedIn gives its users the ability to prove their identity, enabling them to demonstrate their legitimacy and forge closer connections with other professionals. The advantages of identity verification are further strengthened by the incorporation of Aadhaar OTP verification, which offers improved security, a simplified user interface, and promotes trust in the digital environment.