Odoo is growing every day. The overall performance and user interface of Odoo have seen some significant modifications over the course of the last few editions. The entire system is expanding to a completely new level of sophistication and performance with the release of Odoo16.

In this blog, we will see the new features and performance of the Odoo 16 community version which was released earlier this October!
Odoo 16 Performance
In order to achieve maximum performance and popularity in its field of endeavor, Odoo is adding a few new features and has prioritized performance with version 16. Instead of just being an update from the previous version, the new version's main goal is to improve Odoo's performance. The latest version of Odoo, version 16, is the quickest, friendliest, and most advanced of its forebears.
Odoo 16 Featur

​

es
E-commerce update!
According to Odoo, they have updated these changes on the Odoo 16 with their release notes, the updates include
Abandoned Carts Reminders
Send abandoned cart reminders automatically to customers.

Alternative Products Building Block
Customize the 'Alternative Products' block at the bottom of the product page.
Archived Product Variants
Archived product variants are not selectable in eCommerce anymore.

Attribute Display Type
Change product attributes display types (button, radio, color, etc.) from the front end.
Source: Odoo.com
Back-in-Stock Notification
Customers can be notified when a product is back in stock. They can sign-up directly on the product page, even if not signed in.

Cart Items Number
The number of items in the cart is now constantly up-to-date.

Coupons, Loyalty Cards, and eWallets
Offer promotions, coupons, loyalty, and gift cards to customers. Track their usage across the Point of Sale, Sales, and eCommerce apps.

Customer Address Autocomplete and Validation
If using Google Places API: provide address autocomplete and validation during the eCommerce checkout.

Mandatory Sign-in
Improved the checkout process when customer sign-in is mandatory.

Mondial Relay Delivery
Allow customers to choose a Mondial Relay pick-up point during checkout.

Page Options
Change page options in edit mode from the right panel.

Picking and Pay on Site
Added the option to pick up and pay in-store during checkout.

Prevent the Sale of Products
Prevent visitors from adding some products to their carts. For example, B2B companies might not want to display prices for not connected users or not at all if the shop should just be a catalog.

Product Pictures
Upload multiple pictures of a product in bulk. Display product pictures in a grid or carousel.

Product Snippet
The Product Snippet was redesigned.

Product Tags
Facilitate product filtering in the backend and front end using product tags.

Products Default Sorting
Set the default way products are sorted on the Shop page.

Re-order from Portal
Allow customers to re-order the same products from their portal.

Rental
New integration between Rental and eCommerce: customers can now order rental products directly from the website. Customers can search for rental products that are available for a specific period. The search can be done using a specific bloc added somewhere on a website or directly in the product catalog with a date filter.

Shop Page
New default design for the Shop page

Sidebar Filters
The eCommerce sidebar has been redesigned. They appear on the right panel on mobile. Filter categories using the new filmstrip bar.

Snippet: Add product to Cart
Create buttons that will add a product to the customer's cart.
These are the new updates on Odoo 16 ecommerce mentioned in their release notes. To make everything more understandable, every menu was also updated by Odoo. You may access products, loyalty programs, etc. with only one click. Everything, of course, includes more brand-new components, alternatives, and widgets

The eCommerce app as a whole has been redesigned to be more user-friendly and feature-rich. Additionally, there are new choices, making your eCommerce catalog and pages distinct. Odoo has also connected it to Plausible.io to reinforce it. You may monitor your website and eCommerce metrics directly from your website with the use of this integration.

Knowledge is a brand-new, user-friendly software that comes with Odoo 16. This program enables you to share company knowledge and even make it internally customized by allowing you to build or duplicate articles and their hierarchies.
Related Link: Odoo Knowledge: The new knowledge management system of Odoo
Subscriptions
Sales Order Object
Subscription Orders are now based on the Sales Order object to benefit from all its features: renew, upsell, check the MRR, etc., directly from the Sales Order.

Check out our customized subscription application on the Odoo app store.

Odoo Website
Analytics
New analytics dashboard that works out of the box for SaaS users. Now you can use the new analytics tool called Plausible.io which is believed to be an alternative to google analytics, but it must be challenging to use this tool and really see whether it can withstand the superpowers of Google Analytics.

Backend View
Access the backend view of products, events, and appointments in one click with a new button.

Controller as Homepage
Define website homepage in settings: choose a dynamic page such as Event or Shop
Cookie Consent
Ask visitors for their consent before storing non-essential cookies on their devices.
Dynamic Events
Showcase events anywhere on a website with the Dynamic Events building block.

GIF Shapes
Shapes can now be used with GIF images.

Grid Layout
Enable grid mode on a building block to get full control of its elements.

Helpdesk
Add a helpdesk page when creating a new website.

Image Hyperlinks
Fixed adding hyperlinks to images.

Image Shapes: Devices
Use the new category of image shapes called 'Devices' to make images look like they are in a device (phone, tablet, computer).

Live Chat Icon
The Live Chat tab has been replaced by a floating icon.

Mega Menu Transparency
The mega menu can now use a transparent background color.
Mobile View Edition
Edit websites in Mobile view.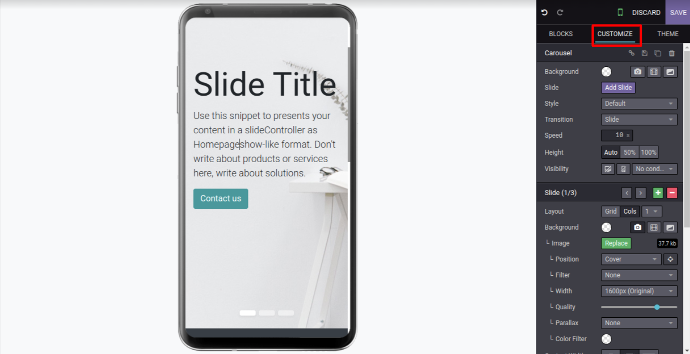 Preset Phone Country Code
The phone country code is now preset using GeoIP information on the Website contact form.

Propagate Language
Catch a visitor's language in the CRM, Helpdesk or Calendar (Online Appointments) app based on which language version of the website they are browsing when submitting a form.

Scroll Animations
Added scroll animations.

Settings
Cleaned up website settings and added new product comparison prices.

Site Menu Restructure
See all website pages and objects at a glance with the Site menu.
Social Media Building Block
Added a social media building block to manage all social network links easily.
Steps Snippet
Change the connectors' style on the Steps building block.
Visibility: Mobile and/or Desktop
Choose if a building block should be visible on mobile only, desktop only, or both
Website Menu
The backend and frontend menus were merged to navigate between the two smoothly.

Odoo Multi Steps Form
Drag and drop the snippets to create the multi-step forms in minutes! Check out what else you can edit on the multi-step form 
Related Link: Customized Odoo Multi-Step Form
The Bottom Line
There are many new features updated on the new Odoo 16, we have mentioned only a few of the important changes here! You can check out all the official updates on the Odoo release notes. In short, using and managing your business with Odoo version 16 will be simple. Odoo ensures that you produce the highest level of efficiency in business management by adding functionality and a new user interface. Contact us for more customized ERP, CRM, CMS, and Ecommerce tech features!